Lock and Key: The Initiation / Ridley Pearson
All villains start somewhere. Find where James Moriarty, Sherlock Holmes' fearsome nemesis started his career of evil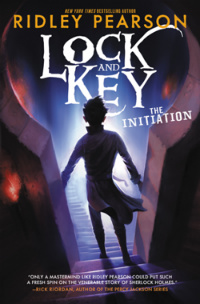 Watch the epic new book trailer for LOCK AND KEY: THE INITIATION by Ridley Pearson, and find out the origins of two of literature's most famous mortal enemies –  Moriarty and James Sherlock Holmes.
Pearson, bestselling author of the Starcatchers series and the Kingdom Keepers series, returns in this new book series, reimagining the origins of the epic rivalry between Holmes and Moriarty. Set in modern times and focusing on Moriarty's bone-chilling beginnings, this middle grade mystery-adventure series will upend everything you thought you knew about Sherlock Holmes—and the true nature of evil.
Synopsis
Our story begins when James Moriarty and his younger sister, Moria, are unceremoniously sent off to boarding school at Baskerville Academy. It is not a fate either want or welcome—but generations of Moriarty men have graduated from Baskerville's hallowed halls. And now so too must James. It's at Baskerville where James is first paired with a rather unexpected roommate—Sherlock Holmes. The two don't get along almost instantly, but when the school's heirloom Bible goes missing and cryptic notes with disconcerting clues start finding their way into James's hands, the two boys decide that they must work together to solve a mystery so fraught with peril, it will change both their lives forever!
Lock and Key: Initiation comes out September 20, 2016
Learn more about Lock and Key here: http://lockandkeybooks.com/
Visit Ridley Pearson here: http://ridleypearson.com/