Space Oddities: Life on Death Row

Each month, Raz Greenberg reviews an overlooked piece of science fiction, fantasy or horror – be it a film, a television episode, a comic or a game – that should have gotten more attention when it first came out and should still be remembered, in his opinion. This month, he explores a tale about capital punishment from a failed TV show by a leading director, one that was very much ahead of its time.
In 1985, when he was already established as one of the leading filmmakers of our time, Steven Spielberg decided to go back to his roots and produce a television show called Amazing Stories. Spielberg started his professional career directing television episodes and films; working at that time as a junior employee of Universal Studios, he had no control over the content of his assignments, so he focused his creative attention on the visuals, often to impressive results. Many elements in Spielberg's later film work can be found in his early television career.*
Sadly, when he got back to television at the height of his film-feature career, now as a producer who can call the shots, the results were less than impressive. Amazing Stories received a lukewarm reaction from both critics and the audience; a similar fate awaited most of Spielberg's following television productions to this very day – the general consensus is that they're not bad, but hardly as significant as his work in film.
Amazing Stories demonstrates the problem common to most of these productions: an anthology of horror, fantasy and science fiction stories (which has basically nothing to do – other than the licensed title – with the pioneering science fiction magazine of the same name), the show featured impressive production values, high-profile staff and some innovative scripts, but somehow it often failed coming together to a significant, or even simply entertaining result.
Ironically, it was when Spielberg released some of his creative grip from the show (he provided stories for most of the early episodes of the first season and directed the pilot) that it developed something of a unique, if not always successful voice. This was mostly due to some young promising talents who got their first major exposure during its production, chief among them animator Brad Bird (later of The Iron Giant and The Incredibles fame) who made his directorial debut in the show's wonderful episode Family Dog. Mick Garris – who up to that point worked mostly on "making-of" documentaries for other filmmakers, emerged as one of the show's most prominent writers and directors. One of the best episodes helmed by Garris, Life on Death Row (originally broadcasted in 1986) was also the debut script for co-writer Rockne S. O'Bannon who would go on to have one of the most interesting writing careers on genre television.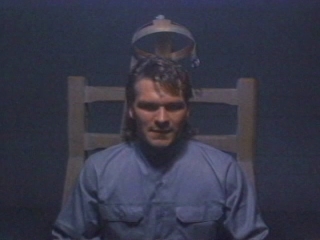 Life on Death Row follows Eric, a young death row inmate (Patrick Swayze) whose final appeal on his verdict was rejected, and he's slated for execution in 24 hours. After an accident in a desperate and failed escape attempt, Eric develops the amazing ability to heal people by touch – and his life take a whole new direction, just when there's so little time before they are claimed by the hangman.
Life on Death Row demonstrates some of the problems that plagued Amazing Stories and prevented it from being entirely successful – several elements as the acting of the supporting cast and especially the musical score are so overdone that they often feel borderline comical. But the episode manages to transcend these problems, aided by the strength of Garris and O'Bannon's script. It is a solid, well-paced piece that delivers a feeling of true character development within its short runtime of less than 30 minutes. Eric, who starts the episode as a person who came to terms with his meaningless existence and as someone who now must pay for his sins, suddenly finds new meaning to his life, and there is a disturbing aspect to the story in the portrayal of the authorities that are either hostile to his attempts at finding this meaning, or simply wish to exploit it for selfish reasons. Swayze, who at the time was known mostly as a teen idol, delivers an excellent performance, initially a dark twist on his beloved-punk persona, which turns into the role of a desperate doomed savior as the episode progresses. Hector Elizondo, in the supporting role of a kind prison guard who attempts to guide Eric on the right path, is equally excellent.
Garris' direction artfully showcases the death-row sets as a cold, dark and ruthless  place, a bit sterile at times, but sufficiently spooky. The story bears many similarities to Stephen King's acclaimed novel The Green Mile (and its 1999 big-screen adaptation directed by Frank Darabont), but the episode was broadcasted many years before King wrote his book – and perhaps it's not a coincidence that in his post Amazing Stories career, Garris became a prolific writer and director of Stephen King adaptations in both cinema and television some (The Stand) successful, others less so. O'Bannon would go on to write the 1988 science fiction feature Alien Nation, probably better-known today for the TV series based on it (I hope to write more about it in a future post), followed by the production of the acclaimed television series Farscape in the late '90s and the underrated Defiance over a decade later. Other than being an excellent piece of television, Life on Death Row is a testament to the talent of both Garris and O'Bannon, strongly hinting of their future careers.
Where to get it: Life on Death Row is available on the Amazing Stories DVD.
* Read more about Spielberg's early television career in my article at Strange Horizons.