Space Oddities: Memories (Katsuhiro Otomo, 1994)

Each month, Raz Greenberg reviews an overlooked piece of science fiction, fantasy or horror – be it a film, a television episode, a comic or a game – one that should have gotten more attention when it first came out and should still be remembered, in his opinion. This month, he reviews a little-known collection of stories from one of Japan's greatest manga artists.
One of the most important milestones in the history of manga and anime fandom in the west was the publication of Katsuhiro Otomo's epic science fiction comics Akira in English translation, and the subsequent western release of the 1988 film adaptation which he directed. Most of the western comics and animation fans have been aware of the existence of Japanese comics and animation by then. Some were even hardcore fans. But Akira was probably the first publication and animated production to convert the masses. It showed how the world of Japanese comics and animation is not only different, but also incredibly cool. It caught the attention of not only fans but also that of artists, with its influence showing on Michael Jackson videos, the DC animated shows and films, and Hollywood blockbusters.
But surprisingly, very little of Otomo's extensive comics bibliography is available in English translation. There have been two English editions of the Akira manga in several collected volumes (another one is forthcoming), two other editions of his excellent horror thriller Domu: A Child's Dream, and some translations of his minor works (the unfinished series The Legend of Mother Sarah and the children's book Hipira the Little Vampire­ – both written by Otomo but illustrated by others, alongside a short, beautifully-illustrated but poorly-written story he did for a black and white Batman anthology). One publication that gave western readers a far broader look into Otomo's style and themes was the anthology Memories published in 1994 by Mandarin Press in the UK.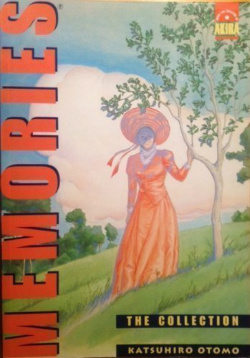 The 256-page volume is a collection of many short science fiction and fantasy stories drawn by Otomo, with three major works among them that showcase the artist at his top form. The first work, Magnetic Rose, is a color piece telling the story of space garbage-collectors who run into something sinister in a seemingly abandoned spaceship. Otomo masterfully handles the eerie atmosphere of the science fiction/horror setting, all the way to the horrific conclusion, with beautifully detailed backgrounds and expressive characters. The story is perhaps more famous for its adaptation as an animated short, included in the 1995 anthology film also titled Memories (but otherwise unrelated to the comics collection). Produced by Otomo, the animated adaptation launched the career of many young promising talents, as director by Koji Morimoto (The Animatrix, Mind Game) writer Satoshi Kon (Perfect Blue) and composer Yoko Kanno (Cowboy Bebop). Otomo has wisely stepped back during the production of the animated short, allowing his young protégés to do their thing, and it resulted in a work that basically tells the same story, but with a different enough feeling to it. Both the original comics and the animated short are true masterpieces.
Farewell to Weapons is another color piece, again telling the story of scavengers – this time on post-apocalyptic Earth, where their profession gets them into trouble with an A.I.-controlled war machine. The story and characterization here are paper-thin, and it's all about the action and the mayhem which Farewell to Weapons delivers in generous quantities. It is an excellent example of Otomo's talents in composing exciting action scenes; although Japanese comics has long been hailed as far more cinematic than western comics, Otomo can be said to have taken this quality to a new level. Like Magnetic Rose, Farewell to Weapons also got an animated adaptation, included in Otomo's more recent (2014) animation anthology Short Peace, handsomely animated but offering little added value to the original story – which, in its own right, provides a highly entertaining reading.
The most significant work included in this collection is a reprint of the entire run of Fireball, an unfinished science fiction series published by Otomo in 1979. It's a tense story involving a struggle against totalitarian regime led by a computer A.I. with subplots concerning unethical experiments and psychic powers. Besides providing a thrilling read (but also a rather frustrating one duo to being unfinished) Fireball is strongly reminiscent of the themes and style in Otomo's later acclaimed works as Domu: A Child's Dream and Akira; even more significantly, it demonstrates the huge influence that Otomo had on contemporary Hollywood features as Chronicle and Looper.
There are other stories in Memories but sadly none of them is as strong as the three discussed here, and many of them are in fact little more than illustrated one-line jokes. But even so, they are worth checking out for the art alone, which is always gorgeous – bringing together elements of manga with strong influence of French artist Jean "Moebius" Giraud*. Memories remains the ultimate introduction to Otomo's comics, and it's a shame that it isn't as well-known as his more famous works.
Where to get it: the collection ran quickly out of print shortly after publication, so you'll have to search Ebay and Amazon for copies. DVD copies of both the Memories and Short Peace animated anthologies are still available.
* On a related note – you can read my review of the recently published Moebius classic World of Edena on Strange Horizons.