Space Oddities: Robot Stories (Greg Pak, 2003)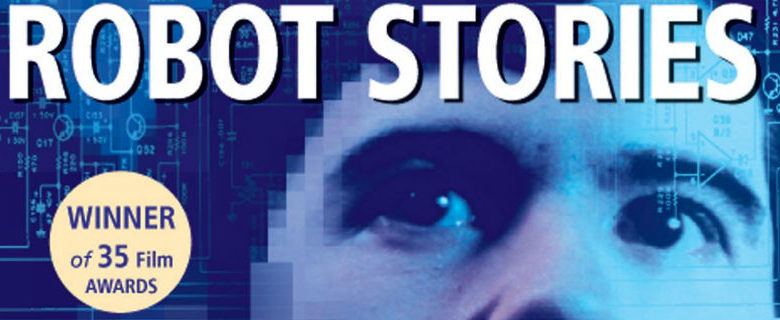 Each month, Raz Greenberg reviews an overlooked piece of science fiction, fantasy or horror – be it a film, a television episode, a comic or a game – one that should have gotten more attention when it first came out and should still be remembered, in his opinion. This month, he reviews one of his favorite science fiction films of the 21st century.
With the rise of the internet and online distribution, the 21st century offers more opportunities for independent directors of genre films to gain fame. One such director is Greg Pak, best known today as the writer of acclaimed comics titles for both Marvel comics and, more recently, Dark Horse. But Pak was into moviemaking before he turned his attention to comics; from 1994 to 2005, he wrote and directed several short films, and in 2003 he released his magnum opus – the anthology film Robot Stories. It remains one of the most charming and intelligent genre productions of the previous decade, a film that manages to be both smart and emotional, done on a modest budget and cleverly utilizing limited everyday settings to tell compelling science fiction stories.
The film consists of four short stories, unrelated to one another in terms of plot or characters but all sharing a theme: they are about robots. American directors of independent genre feature seem to be obsessed with robots*, which is unsurprising, given how genre cinema was full of them in the 1970s and 1980s. In telling stories of robots, the creators of today's independent genre features not only make a nostalgic reference to their favorite childhood films, but also make a commentary about how the concepts of these films reflect on today's world (which, in the '70s and '80s, seemed like the distant future).
Robot Stories is a great example of this trend, as it is all about coming to terms with the past through the present's technology. The first story in it, "My Robot Baby", is about Marcia (Tamlyn Tomita) a woman who must take care of a baby robot to prove that she is qualified to adopt a real baby and discovers that the job is harder than she thought. Other than serving as a great demonstration of how Pak makes the film's limited budget work in its favor (the baby-robot looks more like a toy – but that's just the point!), the strong script and Tomita's excellent performance make the story shine, giving it an Asimov-like feeling of exploring how technological development influences human society on the most basic, individual level. In a better world, Robot Stories should have made Pak an ideal candidate to adapt Asimov's I, Robot to the big screen.
The second story, "The Robot Fixer" is the only non-science fiction story in the film. It's a quiet, downbeat drama about an elderly woman's attempts to communicate with her son – who is hospitalized, unconscious, after an accident – through his childhood collection of toy robots. The story serves, in many ways, as a complementary piece for "My Robot Baby" – while the first story in the film was about a woman who attempts to prove that she fits to be a mother, the second is about a woman who struggles with painful memories about her failures as a mother. And while the narrative backbone is somewhat weaker here, Wai Ching Ho's incredible performance holds the story together, and it offers an interesting twist on the familiar parents-who-don't-understand-their-geek-children trope – played from the parent's perspective this time around.
The third story, "Machine Love" takes Robot Stories in a more cheerful direction, following an android office employee (played by Pak himself) who is constantly abused by the other human office staff, before falling for an office lady who is also an Android. While not as deep as the two stories that preceded it, it is nonetheless a fun story to watch, somewhat reminiscent of Hans Christian Andersen's fairy tale "The Steadfast Tin Soldier" set in a slightly-futuristic environment, with an optimistic conclusion. And Pak proves himself to be a surprisingly capable actor.
The film concludes with "Clay", the story of an aging acclaimed sculptor who considers the offer to back up his consciousness digitally before he dies. Like "The Robot Fixer", it is a slow, and somewhat depressing drama, offering strong visuals, but also a little too talky and uneventful – I personally found it to be the weakest part of the film, but thematically it provides it with a nice conclusion.
Even after its director became a big name in today's comics industry, Robot Stories remains relatively obscure, which is a shame. Perhaps one day, Pak will go back into directing films and give us more science fiction films like this one.
Where to get it: the film has a DVD release which is widely available.
* See, for example, my review of Jake Schreier's film Robot and Frank at Strange Horizons.