Space Oddities: SnarfQuest (Larry Elmore, 1983)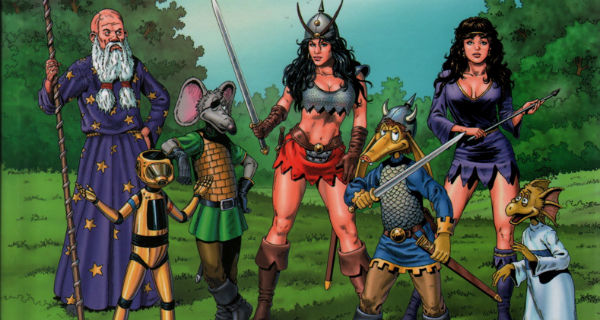 Each month, Raz Greenberg reviews an overlooked piece of science fiction, fantasy or horror – be it a film, a television episode, a comic or a game – one that should have gotten more attention when it first came out and should still be remembered, in his opinion. This month, he reviews the only comic strip drawn by one of America's greatest fantasy artists.
Do you remember your first encounter with the Dungeons & Dragons game? I certainly remember mine: it happened when I first got my hands on the famous "Red Box" of the game's Basic Set. That box had an amazing image on it: a painting of a warrior raising his sword, unafraid, to challenge a huge dragon who sits on top of a golden treasure. It was the best kind of image you can put on a box: the kind that makes you want to open it and see what's inside. And the contents provided more joys of the kind, for the two rule books in it featured more images that brought to life everything – from the introductory solo-adventure to the description of game mechanics. The man behind all of these incredible illustrations, Larry Elmore, immediately became the most significant name associated with Dungeons & Dragons for me, much more than the game's original developer Gary Gygax or the author of the Basic Set Frank Mentzer.
The Basic Set became one of the biggest sellers for TSR – the game's publisher until the late '90s – and Elmore's art played a very big part in its popularity. The move from amateurish and sometimes plain-ugly art used in early editions of the game to the professional work provided by Elmore and others throughout the '80s gave the Dungeons & Dragons products not only a more polished look, but it also made them beautiful-looking. He deserves a huge credit for turning the game from a niche hobby to a mass phenomenon.
But in addition to the hundreds of cover and interior images he did for TSR in a classic painting style, Elmore also proved himself to be a gifted cartoonist, as revealed in 1983 when the editor of Dragon Magazine (TSR's monthly role-playing game publication) commissioned an ongoing comic strip from him. Titled SnarfQuest, it represents Elmore's sole foray into comics, which is a shame – because it's a true delight to read.
The series follows Snarf, a humanoid creature with dragon-like face and very long ears, who goes on a quest for heroics and fortune in order to become the leader of his tribe. Along the way he gets into many misadventures involving a prince turned into a rat, a dragon who believes itself to be a duck, a robot from outer space, and things just keep getting weirder. But even when they do, and despite the fact that Snarf himself isn't always the most courageous or kind-hearted guy around, he always manages to save the day and win over evil, often by complete accident.
One thing that made SnarfQuest so successful and popular upon its initial run in Dragon Magazine was the way it approached the magazine's readership: it treated heroic fantasy stories of the kind that often populated role-playing games in a humorous manner, but it never mocked them. It pointed to the absurd and exaggerated nature of these stories, yet it indulged itself in the pleasure that such stories provide with their big dreams of fortune and glory.
In SnarfQuest, Elmore visualized these dreams on two levels: most of his protagonists, including Snarf himself, are expressive and cartoony, with the action often wandering into the Loony Tunes territory of hilarious slapstick. On the other end of the scale are Snarf's more realistic companions, notably the beautiful, daring-but-innocent Telerie, whose babe-in-bikini-armor design made it clear that Elmore had no misgivings about making fun of his own usual style. This approach was very much ahead of its time: reading SnarfQuest today bring to mind both the contemporary fairy-tale animated parodies of Shrek and its many followers, as well as the later popular funny-fantasy comics titles, notably Jeff Smith's Bone (which seems to have been at least partially inspired by SnarfQuest in its early volumes).
SnarfQuest has its shortcomings, and most of them are rooted in the tight deadlines that Elmore worked on. While characters in the series are portrayed in a live and dynamic manner, there is sometimes a heavy reliance on dialogue (which is highly amusing, but also slows the pace considerably) and scenery design is often kept to a minimum – a shame since, as every fan of Elmore knows, he can draw beautiful fantasy landscapes.
Still, this doesn't take away much from the fun of reading the series. Over 30 years after the publication of its first chapter, it remains a perfect example for the huge talent of the man who introduced me to Dungeons & Dragons.
Where to get it: SnarfQuest concluded its publication on Dragon Magazine in 1989, and the chapters published in the magazine have been collected twice – on a volume published in the '80s, and another one published in the current millennium, both now out of print. In the past decade, Elmore returned to SnarfQuest with new chapters, published on several print and online platforms, before releasing a new collection of all the existing SnarfQuest material, along with a brand-new graphic novel featuring an original SnarfQuest adventure. Both are available through Elmore's website.