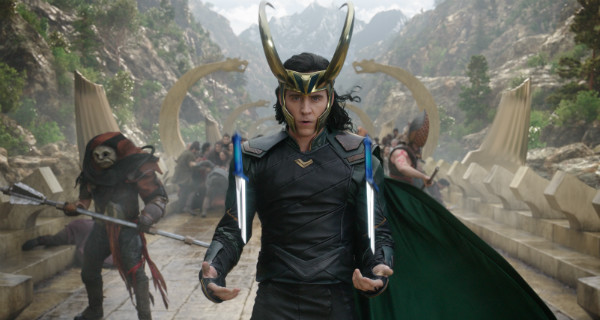 Probably since the first Avengers movie, directed by Joss Whedon, Marvel has earned itself a place of honor in audience's hearts, thanks to the shameless self-humor it introduced into its comics movies. This attitude was backed by viewers who voted in favor with their feet and wallets, and reached its culmination in the first "Guardians of the Galaxy." By comparison, DC, who continued with their overly serious, even somber tone in its movies, was left far-far behind, at least until "Wonderwoman," which brought Marvel's greatest competitor some much needed relief.
Sharper, more colorful and much wittier
Maybe it was the success of "Guardians of the Galaxy" and maybe it was the realization that a slightly different approach to movies was needed is what caused the team behind "Thor: Ragnarok" to entrust the movie in the capable hands of Taika Waititi, whose main success comes from TV comedies. Be it as it may, it was an excellent choice.
Thor: Ragnarok is sharper, more colorful and much wittier, filled with scenes that will make viewers smile in enjoyment. Its overall approach gives the movie and all its characters a certain level of self-awareness, depth and a shot of energy and vitality. Its pace is fast, engaging and filled with very well-made action sequnces, which are also funny in just the right way. The visual effects are wonderful and look their best in IMAX 3D.
Marvel have created in this movie a certain crossover of characters from other comic books in the unified universe they have spent the last two decades creating. Thus, besides characters we all know from previous Thor movies, like Thor, Loki, Heimdall and others, characters such as the Green Hulk and Dr. Strange also make an appearance. This renewed spirit of writing and direction brings out of most of the actors high quality appearances and convincing acting. It shows us that they do not only look good, but can actually perform. Cate Blanchett play Hell, the goddess of the Norse underworld exceptionally well. And Jeff Goldblum, who plays the grandmaster, also does a very good job. It appears playing this kind o half-villain simply comes naturally for him.
These choices also help Marvel to resolve another problem, which has characterized quite a few of its previous movies, which is flat and uninteresting villains (well, except for Loki 😉 ). This time around even the villains got to have their rounds of applause and a share of the audiences' love. Other nice additions include Tessa Thompson, who joins the good guys as a Valkyrie, and brings to the screen a lot of charisma and energy. And even the director himself gives a very witty, comic and slightly wild performance in the role of Korg.
Not So Good
At 130 min' long, the movie could have been cut shorter, and along the way deal with other issues such as the overly complicated plot and plot inconsistencies. Many scenes do not really connect naturally and characters from Marvel's extended universe sometimes appear for no good reason, just for the sake of appearing. On the other hand, in the movie's defence let it be said that despite its length and certain lack of internal logic, "Thor: Ragnarok" is simply a very fun movie to watch.
The Action
I want to dedicate a few more words to the action in this movie. The scene of the battle between the Hulk and Thor is perhaps the best action scene I have seen in a comic book movie. And the movie is filled with good actions scenes even though the rest of them pale in comparison. They are all, however, written well, shot well, directed wonderfully and well made in every way possible. The effect is finally enhanced also by a very well made and colourful soundtrack.
A Perfect Experience
Thor: Ragnarok is not a perfect movie, but it is a perfect experience. Movies like these are the reason we still go to the cinema. It's not just a super-hero movie, it's a space opera, and one of the best of its kind. It is one of the best movies I saw all year, it is Marvel's best offering, and perhaps also the best comic book movie made. It is not exactly a classic and it does not continue Thor's plotline. It provides a standalone story, and this does it only well. Perhaps this is the place for a bit of a warning: If you're expecting a serious and consistent addition to the franchise, you may be a little disappointed. However, if you can keep your mid open, and accept some inconsistencies with Marvel's movies so far, then you will find it very enjoyable and as a must watch for all lovers of comics, science fiction and fantasy.
In Conclusion, "Thor: Ragnarok" effortlessly succeeds where so many other movies try to accomplish and fail, which is to leave you happy and smiling after living the theatre, with a desire for more.